Getting Started
Learn about your WinLink E850-96Board board as well as how to prepare and set up for basic use
Setup - What you will need
Required
WinLink E850-96Board development board
Power adapter

96Boards specification requires a 12V with 2500mA power adapter
Optional
HDMI Display
USB Keyboard and Mouse
---
Out of the Box
In the Box you can find the WinLink E850-96Board as well as a microSD card which comes with a pre-installed linux.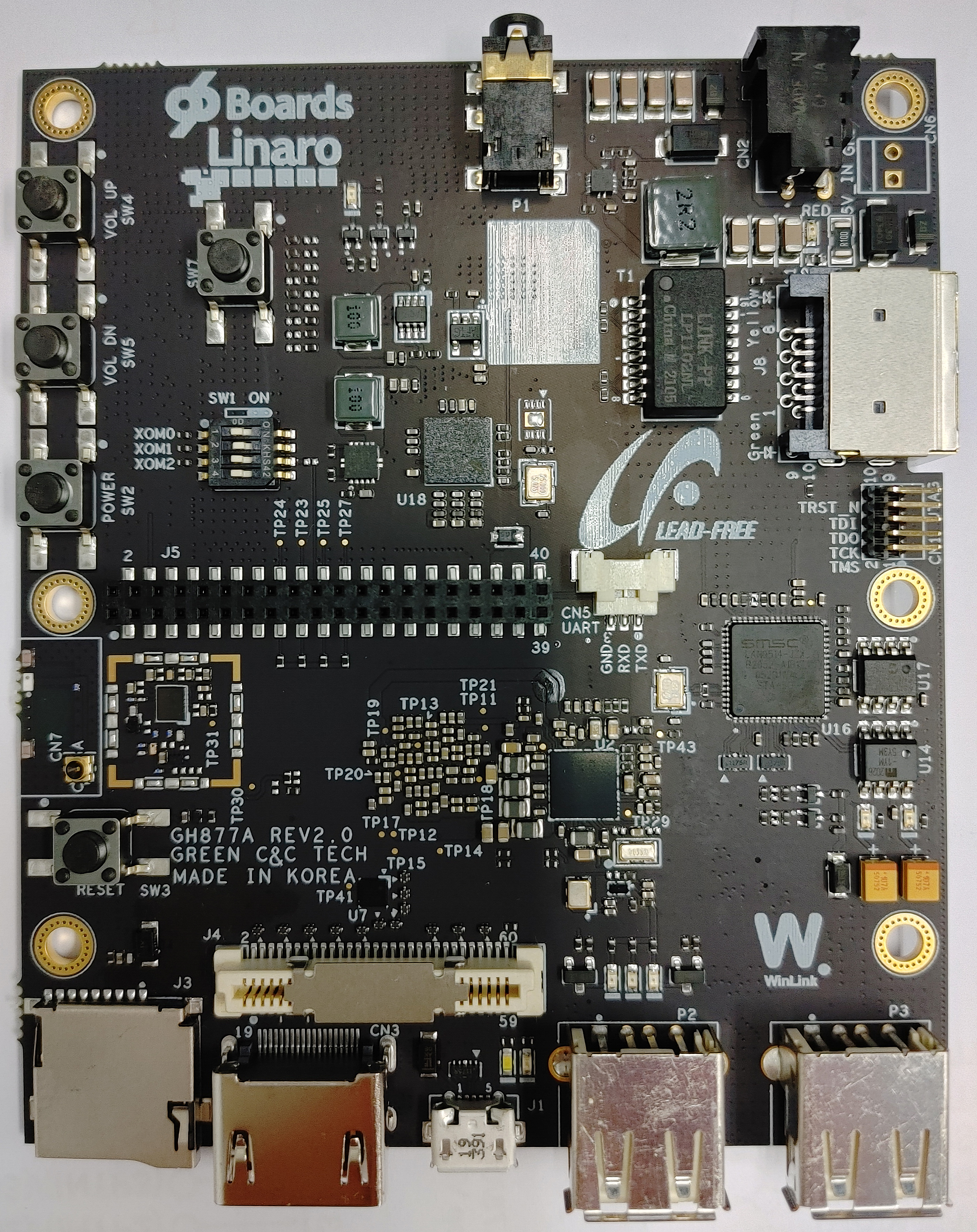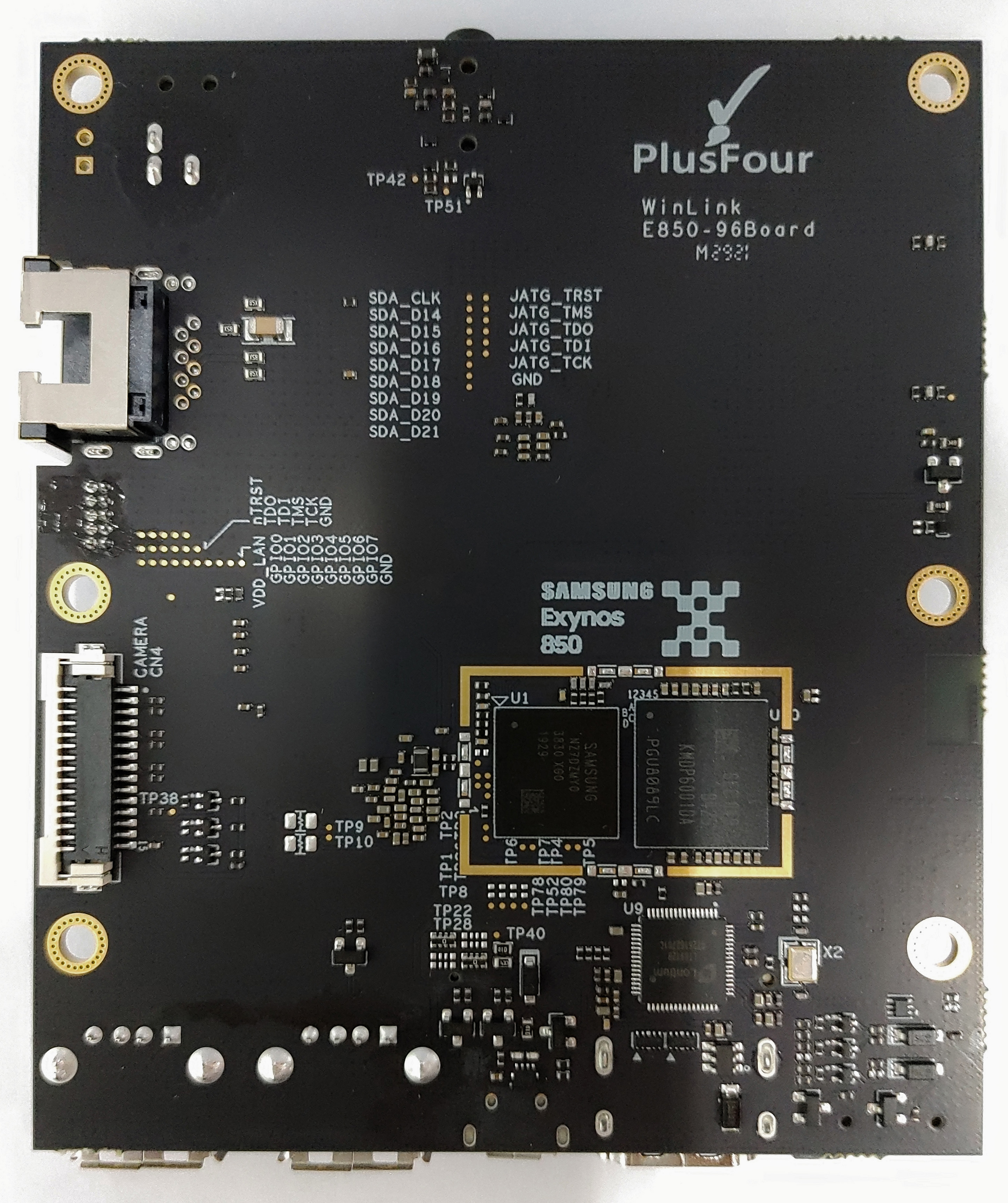 Features
Component
Description
SoC
Exynos 850, 64-bit
CPU
Cortex-A55 Octa core up to 2.0GHz
GPU
ARM Mali G52MP1, 2nd Generation Bifrost architecture
OpenGL ES1.1/2.0/3.2, OpenCL 2.0 Full Profile and Vulkan 1.0/1.1
RAM
4GBytes LPDDR4 on board(MCP, KMDP6001DA-B425)
Storage
eMMC v5.1, 64GB onboard(MCP, KMDP6001DA-B425) and 1x MicroSD card slot
Ethernet Port
1x10/100 Ethernet (RJ-45) socket
Wireless
WiFi 2.4/5GHz & BT5.0 (S612 RF transceiver)
USB
1x USB 2.0 Micro B (Debug only),
2x USB 2.0 Type A (Host mode only)
Display
HDMI (v1.4 Type-A full-size connector)
Video
HEVC (High Efficiency Video Coding) codec which enables FHD(1920X1080) 60fps encoding and decoding simultaneously
Audio
Stereo Headphone output & MIC input via 3.5mm Audio Jack
Built-in audio interfaces HMU(Headphone Management Unit) by PMIC
Camera
Up to 3-image sensor(camera) inputs with a max. resolution of 21.7MP Bayer supported
Expansion Interface
40-Pin Low Speed Header
60-Pin High Speed Header
LED
3x green user controlled LEDs
1x blue Bluetooth enabled
1x yellow WiFi enabled
Button
Power, Volume UP/DN, Reset
Power Source
12V@2A adapter with a DC plug:
Plug specification is inner diameter 1.75mm and outer diameter 4.75mm
OS Support
AOSP(Android-10 based k4.14) / LINUX(TBD)
Size
100mm x 54mm meeting 96Boards™ Consumer Edition Extended Standard form dimensions specifications
---
Starting the board for the first time
This short guide leads you through the first steps to start exploring your WinLink E850-96Board.
Easy Setup Guide
USB cable to Dubug

Connect the Micro-USB end of the USB cable to the debug port and TypeA-USB to the computer host.
Open the serial port tool of the host computer and apply the following configuration:

baud rate: 1500000
Data bits: 8
Stop Bit: 1
Parity Check: NA
flow control: NA

Connect HDMI cable (optional)

Connect one end of the HDMI cable to the development board HDMI port and the other end to a display that supports HDMI.

Connect to Ethernet (optional)

Plug wired Ethernet into RJ45 ports ofthe development board.

Connect mouse and keyboard (optional)

Insert a USB mouse and USB keyboard to the USB port of the development board.
Mouse and keyboard to watch/track on HDMI display.

Connect LTE module (optional)

Insert LTE/5G module into M.2 port
Insert SIM card at the same time

Connect a USB-OTG cable (optional)

When firmware needs to be reflashed, plug micro USB port of USB data cable into USB OTG port of development board, and type a USB at the other end to computer host

Connect DC12V power cord (power on)

Connect the 12V power plug, and when the power supply is connected, the development board starts automatically.
---
Whats Next?
If you are already familiar with the WinLink E850-96Board and would like to change out the stock operating system, please proceed to one of the following pages:
Downloads page: This page lists all Linaro and 3rd party operating systems available for the WinLink E850-96Board
Installation page: If you already have the images you need, this page has information on how to install the different operating systems onto your WinLink E850-96Board
Support

From bug reports and current issues, to forum access and other useful resources, we want to help you find answers
Back to the WinLink E850-96Board documentation home page
---