Windows Host
This section show how to install an operating system to your ROCK960 using the SD Card method on a Windows host computer. ***
Step 1: Prepare MicroSD card
Step 2: Recall Download Location
Step 3: Unzip SD Card Install Image
Step 4: Download the Win32DiskImager tool
Step 5: Use Win32DiskImager tool to flash image onto SD Card Card
Step 6: Prepare ROCK960 with SD card
---
####Step 1: Prepare MicroSD card
Ensure data from mircoSD card is backed up
Everything on microSD card will be lost by the end of this procedure.
####Step 2: Recall Download Location
Locate SD card install file from Downloads page.
This file will be needed for the next step.
####Step 3: Unzip SD Card Install Image
When unzipped, this download will be a folder with the falling contents

Loader (rk3399_loader_v1.08.106.bin) we don't need it for SD card writing here.
Install Image (system.img)(android much as rock960-*-gpt.img.)
readme.md
####Step 4: Download the Win32DiskImager tool
####Step 5: Use Win32DiskImager tool to flash image onto SD Card
Open Win32DiskImager tool
Click the folder icon in the top right
Find your way to the appropriate .img file (This is why you need to remember the location of your extracted image.)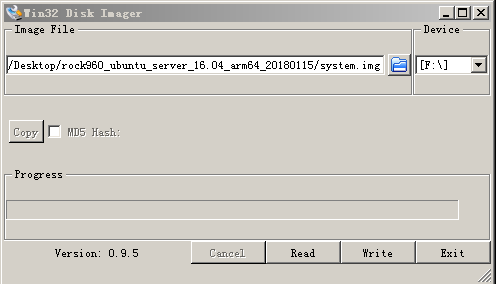 Insert your microSD card (through a USB SD card-reader, if necessary)
Select the correct device and click "write" There may be a warning about corrupting the device. Click "Yes" to proceed.
This process may take a few minutes, be patient and wait for a completion notice.

Upon completion you should see the success dialog pop-up:

Eject SD Card and proceed to next Step
####Step 6: Prepare ROCK960 with SD card
Make sure ROCK960 is unplugged from power
Connect an HDMI monitor to the ROCK960 with an HDMI cable, and power on the monitor
Plug a USB keyboard and/or mouse into either of the two USB connectors on the ROCK960
Insert the microSD card into the ROCK960
Plug power adaptor into ROCK960, wait for board to boot up.
Congratulations! You are now booting your newly installed operating system directly on SD card on the ROCK960!