Getting Started
Learn about your Stinger96 board as well as how to prepare and set up for basic use
Setup - What you will need
Need
Stinger96

Board based on the STM32MP157 Processor

Power adapter

96Boards IoT specifications requires a 5v MicroUSB Power adapter with 1000mA capacity.

MicroSD Card: 8GB
USB to microUSB cable
Optional
---
Out of the Box
The following subsections should describe how to get started with the Stinger96 using the release build shipped with the boards.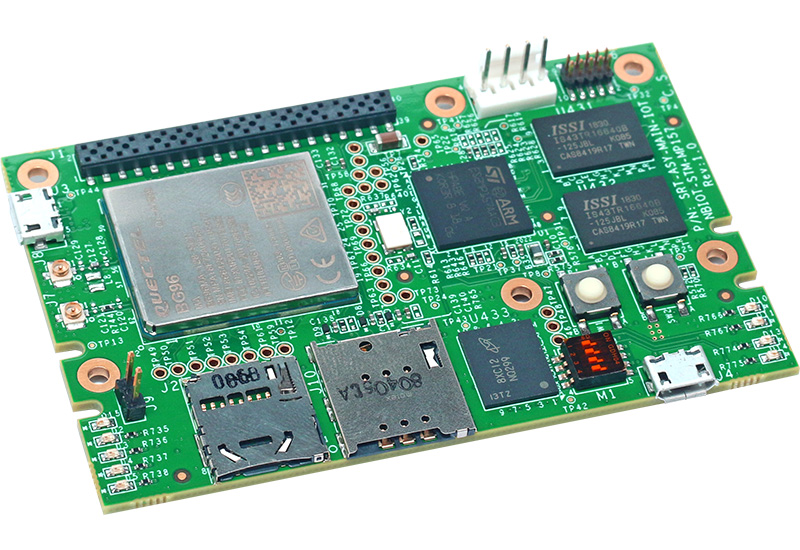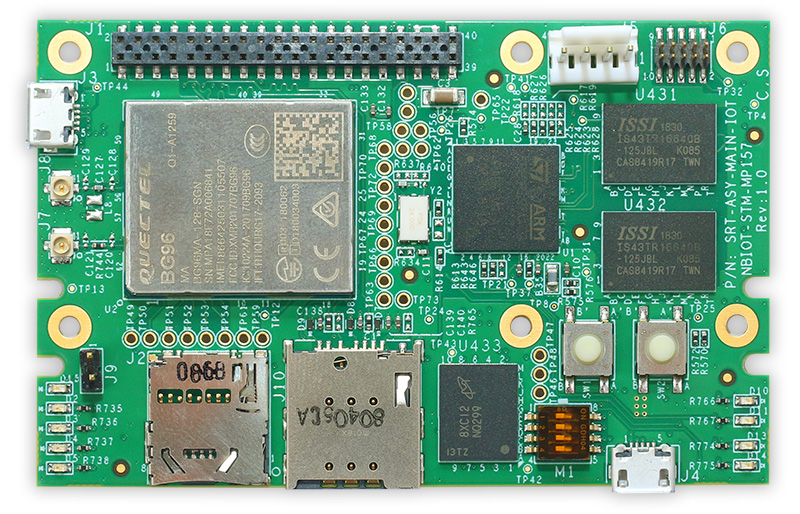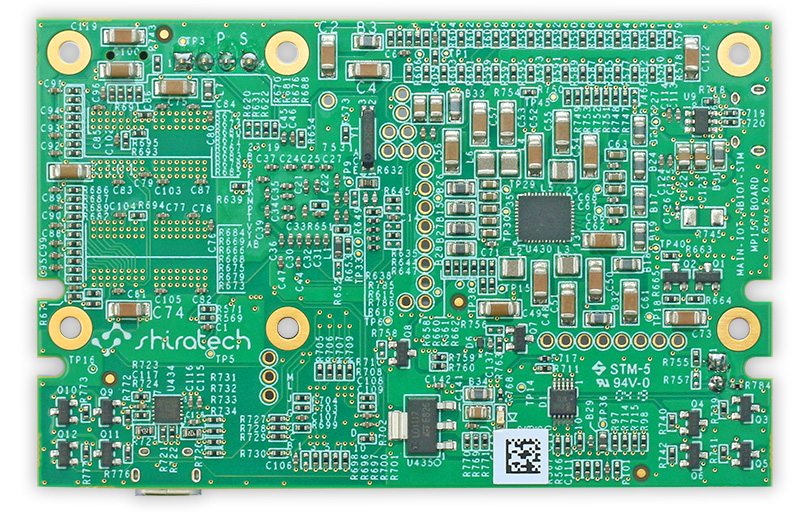 Features
Component
Description
Form factor
Conform to 96Boards IoT Edition Extended (1.8V)
40 Pin Low Speed Expansion Connector
SoC
ST Microelectronics STM32MP157
32 bit dual-core Arm ® Cortex ® -A7 and 32 bit Cortex®-M4 with FPU/MPU
Vivante® - OpenGL® ES 2.0
RAM
DDR3 – 64M x 32bit (2Gbit/256MB)
LTE
Quectel BG96 LTE modem
USB
2.0 OTG USB A Connector
Storage
SLC NAND FLASH – 1G x 8bit (8Gbit/1GB)
micro SD connector
---
Starting the board for the first time
Power ON:

Connect Ethernet Cable
Insert a clean SD card to your PC, then burn the .img file to the SD card using a suitable tool (Win32 Disk Imager for example).
To boot from SD card, change the boot select to 1 0 1. The boot select pins are ordered as follows, top to bottom: Boot0, Boot1, Boot2.
Insert the SD card containing the image file to the SD card connector.
Connect the board to the PC using the micro USB connector. Make sure you connect using USB1 + Console (the one next to the boot select pins).

Connecting To Debug Interface:

Your board should now boot from the SD card. Open your device manager. The board should appear under 'Ports (COM & LPT)'.
Connect to the board through a serial connection using a suitable tool (PuTTY, for example). Make sure you have picked the correct COM port (the one you see in the device manager), and that you use the correct baud rate – 115200.
---
What's Next?
If you are already familiar with the Stinger96 board and would like to change out the stock operating system, please proceed to one of the following pages:
Back to the Stinger96 documentation home page
---