AeroCore 2 for 96Boards
Table of Contents
1) Introduction
1.1) About the 96Boards AeroCore2 Mezzanine
The 96Boards AeroCore2 Mezzanine provides MAV control to 96Boards compliant platforms. With an ARM Cortex-M4 microcontroller running NuttX RTOS and an integrated connection to the connected 96Boards device, AeroCore 2 gives users a complete Linux installation on a PX4-compatible platform.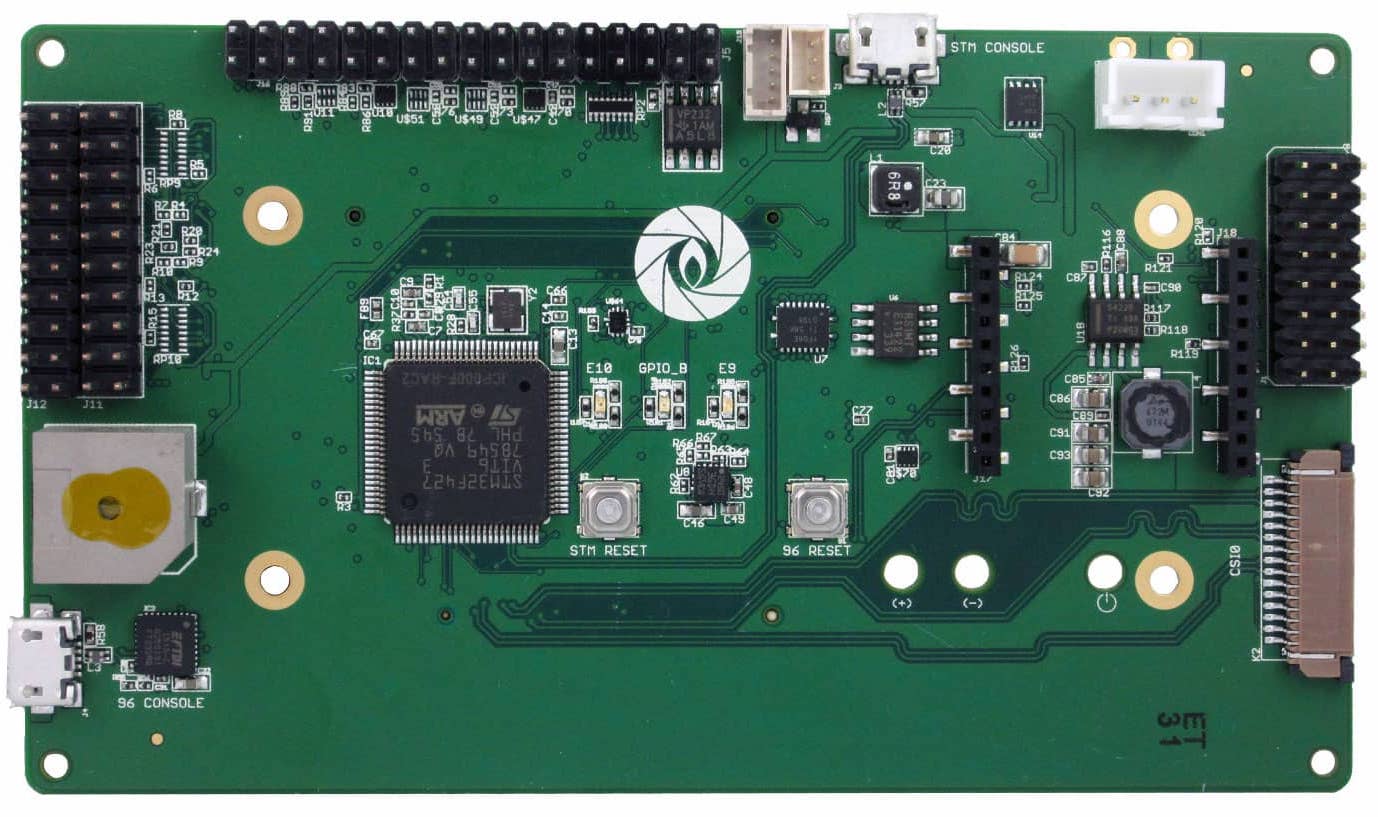 1.2) Specifications and Features
Accelerometer: 6-axis internal measurement unit (IMU)
Barometer
Controller Area Network (CAN): For use in applications employing the CAN serial communication physical layer in accordance with the ISO 11898 standard.
Gyroscope: 3-axis gyroscope
USB Device: Micro B USB Plug
5-pin GPS Connector: Compatible with Gumstix Pre-GO series GPS modules.
Magnetic Buzzer: SMT (5V 30mA 92dBA) BUZZER MAGNETIC 5V 12.8MM SMD
Texas Instruments SN65HVD232 CAN Transceiver Designed for use with Texas Instruments DSPs with CAN controllers and equivalent devices. Provides differential transmit and receive capability at speeds up to 1 Mbps.
FTDI FT232RQ USB UART Interface Connect to an RS232 serial terminal over USB with the FTDI FT232RQ interface
Memory (SPI FRAM 1MB 1.8V) Memory (SPI FRAM 1MB 1.8V)
MS5611 Barometric Sensor A high resolution altitude and digital atmospheric pressure sensor accurate to within 10 cm.
Micro B USB Plug
JST-XH Top 3Pos 2.5mm CONN HEADER XH TOP 3POS 2.5MM
DF13 Top 5Pos 1.25mm CONN HEADER 5POS 1.25MM STR TIN
DF30 Series 24 Position Dual Row 0.4 mm SMT Board to Board Receptacle DF30 Series 24 Position Dual Row 0.4 mm SMT Board to Board Receptacle
ST L3GD20H 3-Axis Gyroscope IC MEMS MOTION SENSOR 16LLGA. Updated version of ICL415 (L3G4200D)
LSM303D 6-Axis Accelerometer System-in-package featuring a 3D digital linear acceleration sensor and a 3D digital magnetic sensor.
2) Guides and Documentation