96Boards OpenHours session six the topic was "Installing Docker on aarch64 with the Reference Platform Build on a 96Boards CE-edition. To watch this weeks' session go to: https://www.youtube.com/watch?v=lvv7CbXOHtw
Below is an overview of what was discussed including the time in the video where this topic was discussed.
The first topic was a recap of last week's session:
Our fifth 96Boards OpenHours session the team discussed in more detail enabling the GPIO libraries on 96Boards.  To watch this weeks' session go to: https://www.youtube.com/watch?v=fbTo3BwURg8&feature=em-subs_digest
This week: (begins at 2:02)  — To watch this weeks' session go to:  https://www.youtube.com/watch?v=lvv7CbXOHtw
Today's guest speaker is Bill Fletcher who is a manager in Linaro's Marketing and EMEA Field Engineering. He gave a talk on installing Docker on one of the 96Boards consumer editions.

Discussed Qualcomm workshop and presentation that Robert gave during the workshop

Shared screen and gave a quick recap of his presentation

Overview on Linaro and 96Boards

Overview of DragonBoard 410c

Software cores that are available

Available documentation and sample code

Fastboot mode

USB Debugging

Expansion headers

Board Layout

Different Mezzanine boards available

14:58 – Question – Does DragonBoard 410c have a sleep capability to get more out of your batteries?

17:30 – Question – It would be nice if 96boards spec allowed option for USB 3.0 – is that going to be available on the high speed expansion connectors?

21:54 – Bill Fletcher begins talk on Docker on aarch64 (see his blog for more details: https://www.96boards.org/blog/installing-docker-aarch64-96boards-ce/ )

Docker is "an open source project to pack, ship and run any application as a lightweight container."

Talks about Enterprise software and how it relates to Docker

Docker is widely supporter both on 64bit and 32bit

3 elements that make-up Docker

Client – command line interface

Demon – does building and distributing

Remote registry – external repository of Docker images

Some key facts:

An image is a read only file – i.e. a template

A container is a running instance of an image and can run many containers of same image

3 sources for where images come from

Can be preexisting images from ones you download

Create an image by modifying an existing image and then uploading it

Create an existing file system and import into Docker

30:08 - Why run it on Dragonboard or HiKey?

Bill goes through several reasons why this works well on these boards and examples when it might be a good option

34:03 – Question - What is the difference between running Docker and a VMware?

36:13 – Question - Can a container access GPIO's?

Bill then speaks about hardware access in more detail to answer this question

42:32 – Question – What is the impact on performance on any application inside a container and running directly?

The session ended with Bill mentioning that he will be attending the next session to answer any further follow-up questions

Bill wrote a great blog that goes through how to get Docker up and running that you can check out here: https://www.96boards.org/blog/installing-docker-aarch64-96boards-ce/
Be sure to stay tune in next week  https://www.96boards.org/openhours/
Please remember, if you get stuck, there are resources to help you through the installation. Feel free to check out the 96Boards forums, 96Boards wiki, or Freenode IRC channel #96boards (there are many ways to access IRC, this website is one of them). Dig around the wiki, create a new forum thread, and/or post a question in the chat.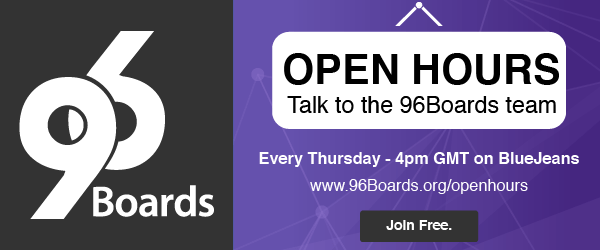 In this series