Yesterday was the third installment of the 96Boards OpenHours sessions.  This week the topic was 96Boards compatible enhancements, design tools, and add-ons. This includes the available Mezzanine product line with sensors and 3D printed accessories.  To watch this weeks' session go to:  https://www.youtube.com/watch?v=k7QR_KlXMRc&feature=youtu.be
Below is an overview of what was discussed including the time in the video where this topic was discussed.
The week started off  with a recap from last week:
1. Last week Robert talked about different 96Boards consumer boards – HiKey, Dragonboard 410C, Bubblegum-96
    1. Pointed out their unique aspects and went over a comparison table

2. Also discussed were the operating systems available when purchased –
    1. Discussion about different operating systems that come with kits that complement them
    2. Compared the different systems

3. Michael discussed the Robo-Mezzi kit ([https://github.com/mwelling/96boards-robomezzi](https://github.com/mwelling/96boards-robomezzi))

This week: (starting at 7:36 in the video)
Began discussion this week's blog topic:  https://www.96boards.org/blog/96boards-box-experience-guide-3/ 

Using different peripherals

Talked about what the mezzanine is

Mezzanine boards add on to the base board (snaps right on to the baseboard)

96Boards for Mezzanine (seed sensor kit)
At 9:50 in the video there was a question: How do you know which Mezzanine board to pick?
Discussion on different boards and uses for different projects

Mezzanine boards bring your voltage up
At 18:01  a discussion began on different places to go online to get access accessories – including places where you can get your schematics printed on a 3-D printer and the suggestion of posting schematics onto the community site and get input to help improve your design
At 21:00 – Discussion about fritzing – see more in a blog by Ricardo Salveti - https://www.96boards.org/blog/fritzing-part-96boards-ce/
At 21:40 – Introduction of Michael Welling and his  Robo Mezzanine board
Discusses steps on putting together a Robo-Mezzi board
At 35:18 – Introduction Joakim Bech and Daniel Thompson – Discussion on Trustzone and security for 96Boards (See more about Linaro trusted application development for TEEs https://www.youtube.com/watch?v=jWX-B5nM17o)
Discussion on encryption
At 38:32- question on Hikey security – what does it have?
Discussion about security on different boards
Be sure to stay tune in next week where we will focus on a particularly important part of the 96Boards hardware (and software), the low-speed expansion header and it's many GPIO interfaces. Robert will highlight some great examples and steer you to a bank of resources that will help any hobbyist/developer get started with any 96Boards!  https://www.96boards.org/openhours/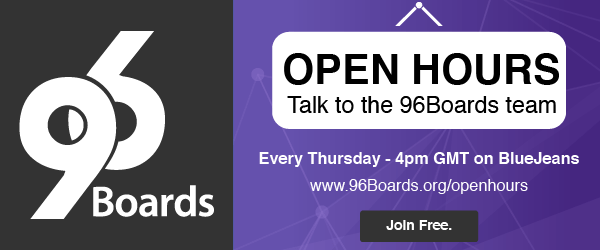 In this series