Happy New Year!
NOTE: Pair this blog with this episode of OpenHours!
Yes that's right, it is now the year 2017, and here at 96Boards headquarters (i.e. everywhere) things are anything but stagnant. In fact, for some time now the team has been hard at work devising a plan for this new and prosperous year. Still, while we do anticipate an action packed year for 96Boards (Spoiler alert: find out more later in the blog), it is always important to take a look back at all of the exciting things we have accomplished and seen in 2016…
Year end 96boards 2016 from Robert Wolff
For all you audio/visual folks, get caught up by visiting the 96Boards YouTube channel. There you will find several playlists to help maneuver through the content. Don't forget to subscribe!
---
January, 2016
The year started out strong with January seeing a plethora of announcements and 96Boards product releases.
February, 2016
March, 2016
April, 2016
May, 2016
June, 2016
July, 2016
August, 2016
September, 2016
October, 2016
November, 2016
December, 2016
---
Still here!?
While I am sure there are plenty of other things I may have missed in 2016 around 96Boards, these were some of the highlights I was able to salvage and save. Yes, I am a digital hoarder! This means 2017 will be quite a busy year for me… Just wait, things are about to get crazy!
Now, since I have pretty much shared over one hundred links, I will give you all a minute to click around and enjoy the content…Back already? Great! I think it's time to summarize a bit.
For 96Boards announcements and fun, be sure to visit and follow all of our social media channels! Seriously though, if you could only choose one, I would recommend Twitter :)
If you are aching to follow more than just 96Boards, travel on over to my Twitter and give it a follow as well! www.twitter.com/sdrobertw
For those of you who prefer a mailing list, we have just the one for you! You can choose between our "Monthly Newsletter" and our "Weekly Digest". Get ready for just the right amount of commitment and information, 2017 is calling and 96Boards is here to answer.
Remember, you are all the reason this is possible. Please join us in welcoming a vibrant and new twist on community engagement. With OpenHours, we will take on some exciting challenges this year.
Every week at 4:00pm UTC the 96Boards team engages in the ultimate community driven experience. All are welcome to join LIVE, for free, to interact as equal members in the 96Boards tribe of enthusiasts and developers. This is YOUR channel and a means to bring up interesting and possibly controversial topics, explore new possibilities around the 96Boards brand, and pretty much anything else you would like to talk about! You can also join to hang out and have a quick chat while you enjoy your morning coffee or tea :D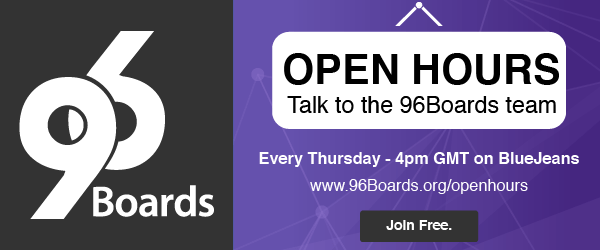 Don't forget, if you get stuck, 96Boards offers many helpful resources. Feel free to check out the 96Boards forums, 96Boards documentation landing page, and/or Freenode IRC channel #96Boards (there are many ways to access IRC, this website is one of them). Dig around the docs and website, create a new forum thread, and/or post a question in the chat, myself or one of the 96Boards developers would love to help!
---
So I think it's time for the new year teaser, what can you expect from 96Boards in 2017?
Let's take a look… How about some major website changes, a newsletter revamp, and a first time ever weekly digest! You will see some BIG social media pushes, with giveaways, member sponsored content, tutorials and mini-series curriculum around 96Boards(free and fun!). Get ready for hackathons, multiple Linaro Connects, and did I mention more boards, accessories and mezzanine products? 2017 is chalked full of surprises, and I can't wait to share them with everyone!
Join us in welcoming the new year 2017- Year of the 96Boards